About Us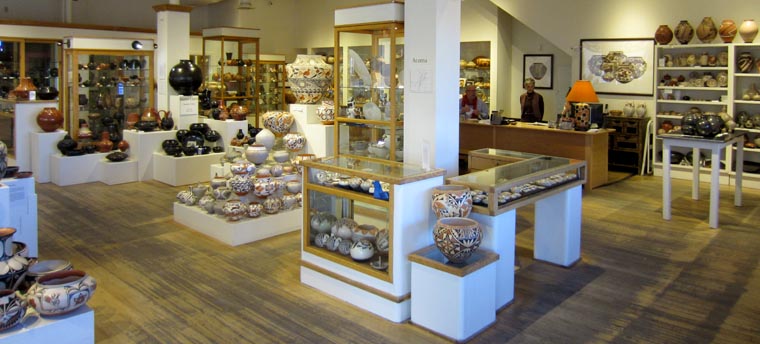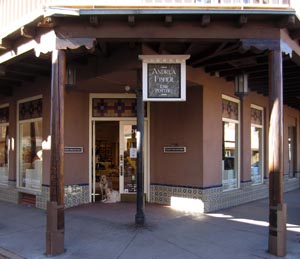 Andrea Fisher Fine Pottery is the premier Native American pottery gallery in the world. We are located at 100 West San Francisco Street, on the corner of Don Gaspar, in the heart of Santa Fe's historic Plaza district, just steps from the Plaza. Since 1993, the gallery has presented and sold only hand-made, hand-painted Native American pottery from the Southwest and from the village of Mata Ortiz in Chihuahua, Mexico. We also offer a few select pieces of pottery from Native American artisans from other parts of the United States.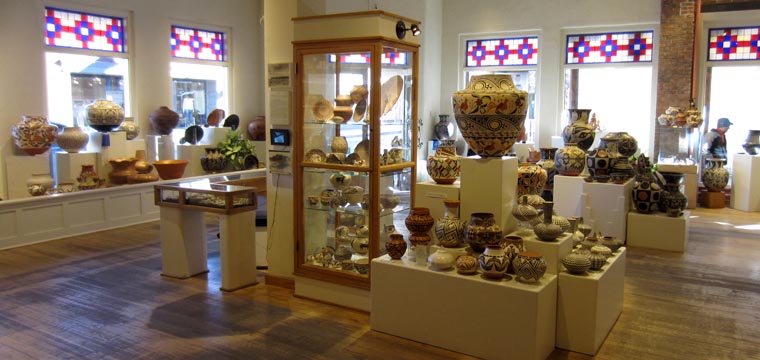 The gallery's pieces, which are organized and displayed by pueblo, date from the 1880's to the present day. We strive for depth within this one media, often representing six generations of potters from one family. Maria Martinez, recognized as the most famous Native American potter, is one of our specialties and we always have a large selection of her work.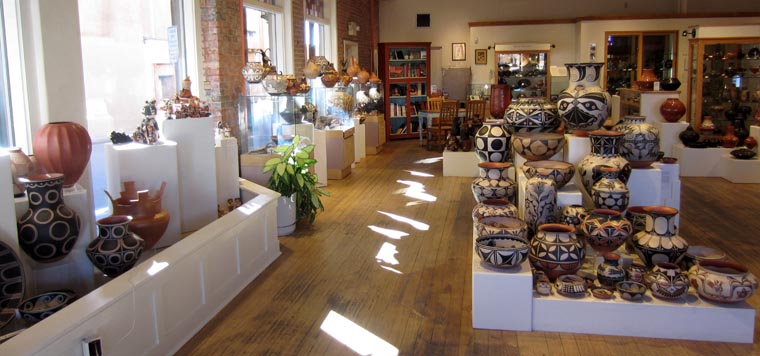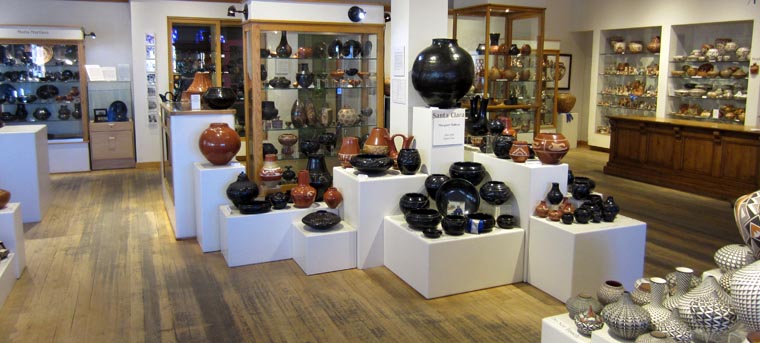 Update, Nov 16, 2020: The gallery is open by phone only, Monday through Saturday, 10 AM to 4 PM, to comply with the Governor's latest health order. This health order will expire on November 30, 2020. The website is always on and any enquiries made through it will be responded to at least by the next business day. We'll revise this schedule after the Governor's news conference at the end of the month.
We pack in-house and ship via UPS. We bag, bubble wrap, double box and insure all our packages.
Our Staff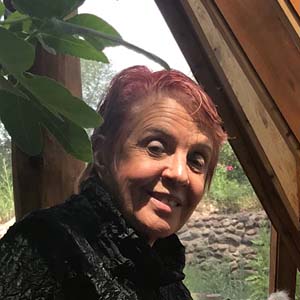 Andrea Fisher opened the gallery on April Fools day 1993. She moved to Santa Fe 46 yeas ago, eight years after graduating from the University of California at Berkeley. Waitress, sales clerk (mens' underwear), department store buyer, art teacher, Indian art museum buyer all lead her kicking and screaming into the gallery business. No regrets! She lives in a house built approximately in 1350 AD (yes, people lived in New Mexico before Columbus) and spends a great portion of her time keeping it standing. Collecting folk art, cactus and succulent plants, gardening, traveling, cooking and canning keep her on the move. "Some day they will carry me out in a box" and that will be her official retirement. Luckily, she has her son, Derek to carry on the business. During this virus, watching her hair grow like a weed, she dyed it bright red, just for the fun of it.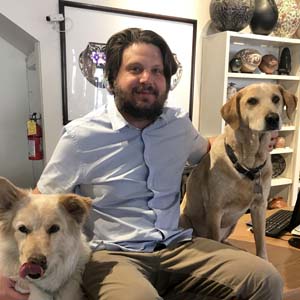 Derek Fisher was born in Santa Fe and when he was 4 years old began helping his mother, Andrea, dust the pottery collection in their living room. When he was a sophomore in high school, as a computer class project, he and his friend Augustine built the web site we still use today. Every summer while in college at UC Santa Cruz, he worked in the gallery maintaining the web site and doing all of the financials which he continues to do today. He came on board permanently after a 3 year stint at Bonny Doon Winery in California. Derek is an avid outdoors man, and has a medical record of broken bones and serious injurys to prove it. Skiing, mountain biking, hiking, camping would occupy all of his time if we let him. During this virus, he has let his hair and beard grow and now looks like the mountain man he would like to be. As soon as the gallery re-opens, and he is able to get a haircut, he will! He has worked more than full time keeping the gallery alive during the pandemic. He is pictured with his beloved dogs, Stout and Honey.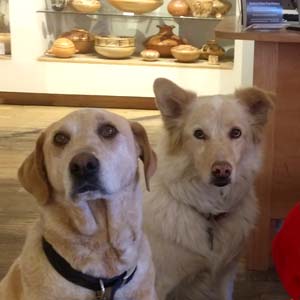 Honey and Stout are both 100% "pure-bred animal shelter" dogs. Derek may be the owner but they are certainly part of of the Andrea Fisher Fine Pottery family. They are our official greeters.....except when they are sleeping under a desk. They have had their bellies scratched by visitors from all over the world. Honey (the long haired) loves dog treats and carrots and Stout (the short haired) is not picky. When Stout was a puppy, he ate Derek's entire 25 foot garden hose. They can be seen blocking the front door, waiting to be petted and watching the world go by.
Amy takes care of the day to day stuff . After a year of service she and her husband moved away. When she finally came to her senses, they moved backed to Santa Fe and she came back to work at the gallery. Born in Pittsburgh, Amy and Andrea both went to Shaler High School, although many years apart. This fact was only discovered years after they worked together. Amy is an avid and skilled baker (she once owned and operated a bakery) and an avid gardener. During the virus she has been an essential assistant to Derek dealing with the online operation. You can depend on Amy to do any job at the gallery and do it well.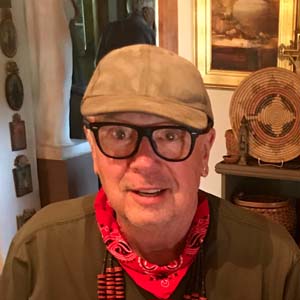 Al, for decades, was a frequent visitor to Santa Fe and finally moved here eight? years ago. Before retiring from art teaching in Wisconsin, for years he "volunteered" at the gallery over Indian market. He describes himself as the "secretary" who jokingly says secretaries get to sit on the bosses lap. Standing at 6'5' and recently loosing over 100 pounds at Weight Watchers, has replaced it with his jewelry collection. Al is the consummate collector. After donating 550 pieces of American Indian pottery to his partners college museum, one could not tell there was anything removed from his home. During the virus, Al has been busy making inventory of his beautiful and unique note cards and gift tags which he sells at some of the finest shops in Santa Fe. Al has more friends and knows more people than any person alive.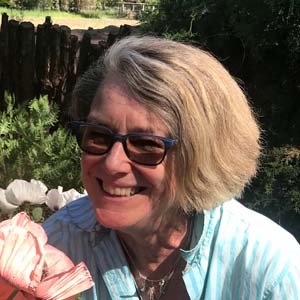 Becca is an international girl. Growing up with three sisters, they lived with their mother and diplomat father all over the world, mainly in Latin America and Africa. She brings a special sensitivity to the cultures of the world. She spent part of her career as a garden designer and probably knows the Latin name of every green thing that grows on the planet. Becca is a bundle of energy and spent her time during this virus Zooming, reading for her book clubs, hiking and taking care of her fabulous plants and cactus garden. Several months ago she moved her partner to a memory facility in New Jersey closer to his grandson. There he contracted the coronavirus and passed away.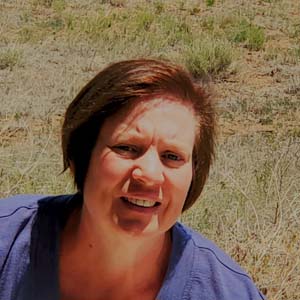 Jennifer (Jen) has been in Santa Fe for over thee years, arriving from Asheville, North Carolina. Twenty years ago she created a consulting company that provides public relations advice for national and international businesses and organizations. Seventeen years ago she hired her favorite and only employee, her father. She still consults, but for fun works at the gallery. Jennifer is a serious collector of masks and pottery of the Americas. During the virus she has been busy spoiling her dog, Tilly, with her 75 dog toys and "supporting her favorite local chefs and missing her local bar stool".
Erica who hails from Germany not only sells in the gallery, but she can do it in many languages. Her quiet and elegant presentations are a welcome relief from all of the other rowdy employees. In her other other life, she leads adventure tours of the Santa Fe area, introducing newcomers to all the wonders of New Mexico. She loves caring for plants and animals.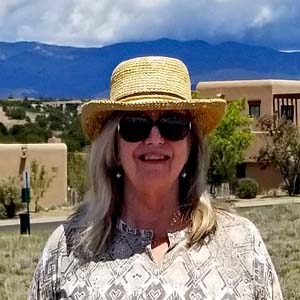 Denece, our newest salesperson, took 25 years of visiting New Mexico before moving from northern Michigan by way of the northwest to Santa Fe. Originally, she was a gallery customer and joined the staff last year. Denece has downsized from luxury yachts and real estate to selling Indian pottery. During the shelter in place she spent time hiking but her most fun was going on line "hunting and gathering".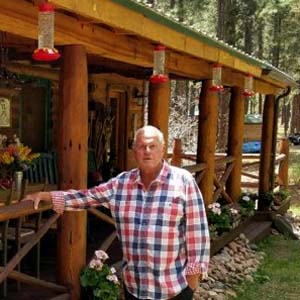 Kelvin, born in a mining village in Yorkshire, England is the Benny Hill of Andrea Fisher Fine Pottery. As his partner would say, "you never know what will come out of his mouth next". Not to worry tho', you probably will never have to speak to him. He works in the basement packing and shipping. He spent many years in the restaurant business and even though he has been in the United States since 1971 he refuses to relinquish his British accent. He runs away from the bustling city of Santa Fe to his cabin in Jemez Springs, which he purchased from a couple standing in line in front of him at the Santa Fe Opera. He is the packer and shipper and all those beautifully packed pots that arrive unbroken are a result of his diligent attention to detail.
Scott is our computer geek. He spends hours in a tiny corner in the gallery photographing every pot received and inputting all of the information onto our web site. He is such a computer whiz that for the last six years he has taken Derek's original web site design and improved it to the comprehensive and easy to navigate site that it is today. Scott has lived everywhere and has many a tale to tell about each place. He and his wife are raising their two grand children, Charles who is in college and Ruthie who is in grade school. He has spent most of his time during the virus homeschooling. He is our computer guru.
---