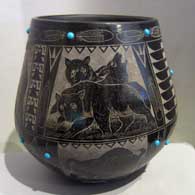 ---
Red Starr, (Elk), was born into the Sioux Nation in Wisconsin in 1937. He is associated with Santa Clara Pueblo since he married Harriet Tafoya and, following Pueblo tradition, moved to her home. Introduced to traditional pottery making after he came to New Mexico, he was inspired by Charles Blunt Horn (uncle), Norman Red Star (nephew), and Swift Bird (cousin) to begin making pottery in the 1970's as a worthy addition to his wood/stone carving and oil painting pursuits.
Red specializes in hand etching, also known as sgraffito, on highly polished black pots. The process begins with a hand-coiled red clay pot. A slip coat is applied and polished with a stone. Then when it's dry, the pot is completed by firing on the ground. The reduction method of pot firing is employed to turn the clay black: manure is traditionally used to create a hot intense fire that when smothered (covered with ashes) quickly burns all the oxygen out of the air and causes a chemical reaction that turns the pot black. Once the pot has cooled, the sgraffito work can begin.
Sgraffito is a form of etching that is achieved by scratching a design into the surface of a pot. The designs Red uses are representative of the Great Plains Native American medicine animal beliefs. For example, the buffalo represents abundance and the bear expresses intuitive nature. Details such as feathers, bear paws and various other elements are etched into the surface and accented with faux-turquoise stones inset after all else is done.
Red's work fascinates and is sought after by many collectors. He signs his work: "Red Starr" followed by an arrow and his census number.

100 West San Francisco Street, Santa Fe, New Mexico 87501
(505) 986-1234 - www.andreafisherpottery.com - All Rights Reserved