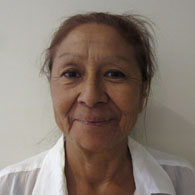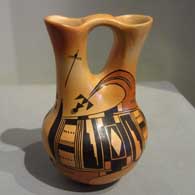 ---
Nyla Sahmie was born to Priscilla Namingha Nampeyo and Donnelly Sahmie on Summer Solstice day in 1954. She was born on an auspicious day into a very auspicious family, one of the most famous and accomplished families in the Hopi-Tewa world. Her grandmother was Rachel Namingha Nampeyo, her great-grandmother, Annie Healing Nampeyo and her great-great-grandmother, Nampeyo of Hano. When we asked Nyla who in her family was a potter she replied, "Everyone."
Born into such a family, Nyla was surrounded by many of the finest practitioners of all the various aspects of the ancient art but says she was 12 or 13 before she made her first pot. She also says her mother, Priscilla, was her main teacher. In turn, Nyla has also taught all her own children (Ken Lynch and Michael, Chris and Seth Collateta) in the traditional way.
Nyla told us she most enjoys making wedding vases and large bowls. She especially likes painting "busy" designs on the interiors of her bowls, drawing from the huge selection of ancient designs her family has amassed over the years. When we asked her where she finds her inspiration she answered, "Walking through the old ruins and discovering ancient pottery sherds." In that way, she's also adding to the collection of designs in the family album.
When she's not busy with some aspect of making her pottery, Nyla says she loves to sew. She also loves riding and taking care of her horses.

100 West San Francisco Street, Santa Fe, New Mexico 87501
(505) 986-1234 - www.andreafisherpottery.com - All Rights Reserved