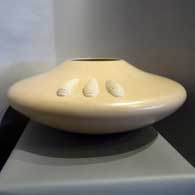 ---
"If I can see the beauty in my hand, if it touches my inner heart,
and I can mold it into harmonious beauty, then I have met the challenge." - Polingaysi
Hopi potter Al Qöyawayma was born in Los Angeles in February, 1938. He grew up in the San Fernando Valley, attended Van Nuys High School and went to California Polytechnic Institute for a BS in Engineering, then to the University of Southern California to earn his MS in engineering. He worked for many years in the Defense and Space Industry in the development of inertial guidance systems. He is also a co-founder of the American Indian Science and Engineering Society. Al has also served as Vice-Chairman of the Institute of American Indian Arts and is a Fulbright Fellow to the Maori of New Zealand, working with them to revive their ancient cultural ceramic tradition.
As he was growing up, Al spent summers with his aunt, Polingaysi (Elizabeth White) Qöyawayma, on the Hopi Reservation. From her he learned much about traditional Hopi ceramics and legends. She also instilled in him the family's spiritual challenge as members of the Coyote clan: "We do not walk alone, Great Spirit walks beside us. Always know this and be grateful."
As an artist, Al credits his aunt and Charles Loloma with considerable influence and encouragement. It was they who suggested that they use their backgrounds to step "beyond all Indianisms, to blend tradition with contemporary expression." That has become part of the philosophy behind Al's ceramic artwork. Al says "I am privileged to be present during the creative process, watching as unseen hands and the gift of the Creator's energy flows into my work.".

100 West San Francisco Street, Santa Fe, New Mexico 87501
(505) 986-1234 - www.andreafisherpottery.com - All Rights Reserved