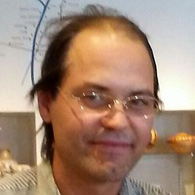 ---
Jamie Zane Smith tells us he has a strong personal commitment to building Wyandot pottery. He's working to retain an integral sense of form inspired by sensibilities from a time when people lived in the full awareness that they were not separate from the Earth.
Jamie uses traditional resources to create pottery that speaks to the modern world. For him, his creating of pottery is a participation in the flow of Nature, from a perspective where humans and Nature are not dueling entities but rather a single continuous flowing of prayer in a language of glory to the Creator.
Jamie has learned much through watching his uncle, Richard Zane Smith, creating his own form of Wyandot pottery. Jamie spent a year in Wyandotte, Oklahoma, studying with his uncle. He learned that the making of pottery is a spiritually honest form of sensibility. There's also something about getting his hands into and working with clay that speaks to his heart.
Jamie says he grew up in the city and has traveled the world since finishing his formal education. The time spent with his uncle convinced him that the rural way of life is the life he wants to live with his wife and their two daughters.
These days they live "lightly and simply" in an old two-room schoolhouse in the Ozark Mountains of Missouri. In a small valley at the point where two creeks meet, the schoolhouse hasn't changed much since the days when his wife's grandparents attended school there. Jamie says the peace and the beauty of the ever-changing wooded landscape are a constant inspiration for him.

100 West San Francisco Street, Santa Fe, New Mexico 87501
(505) 986-1234 - www.andreafisherpottery.com - All Rights Reserved

Jamie Zane Smith
NonPueblo
$ 1800
zjmmh9141
Classic coiled seed pot with star design, fire clouds and custom driftwood stand
7 1/4 in H by 8 1/4 in Dia Measurement includes stand
Condition: Excellent
Signature: Jamie Zane Smith
Date Created: 2019

100 West San Francisco Street, Santa Fe, New Mexico 87501
(505) 986-1234 - www.andreafisherpottery.com - All Rights Reserved

Seed Pots
Acoma, Hopi, Isleta, Jemez, Laguna, San Felipe, San Ildefonso, San Juan, Santa Clara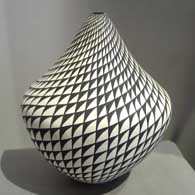 Sandra Victorino
Acoma Pueblo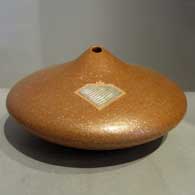 Preston Duwyenie
Hopi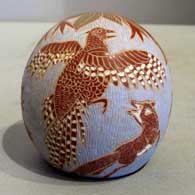 Camilio Tafoya
Santa Clara Pueblo

It was a matter of survival to the ancient Native American people that seeds be stored properly until the next planting season. Small, hollow pots were made to ensure that the precious seeds would be kept safe from moisture, light and rodents. After seeds were put into the pot, the small hole in the pot was plugged. The following spring the plug was removed and the seeds were shaken from the pot directly onto the planting area.
Today, seed pots are no longer necessary due to readily available seeds from commercial suppliers. However, seed pots continue to be made as beautiful, decorative works of art. The sizes and shapes of seed pots have evolved and vary greatly, depending on the vision of Clay Mother as seen through the artist. The decorations vary, too, from simple white seed pots with raised relief to multi-colored painted, raised relief and sgraffito designs, sometimes with inlaid gemstones and silver lids.

100 West San Francisco Street, Santa Fe, New Mexico 87501
(505) 986-1234 - www.andreafisherpottery.com - All Rights Reserved