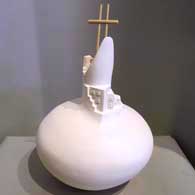 ---
Wilfred Garcia was born into Acoma Pueblo on March 28, 1954. He was exposed to pottery making growing up but didn't really get into it until after meeting his wife, Sandra Shutiva. Wilfred and Sandra both learned the traditional art from her mother, Stella Shutiva, who had learned it from her mother, Jessie Garcia. Wilfred said he started out to be a painter but his mother-in-law told him his hands were meant to work with clay, not oils and acrylics.
Wilfred often collaborates with his wife in making white jars with organic openings and carved cliff dwelling scenes. They also make white jars with appliqued ears of corn on them. On his own, Wilfred makes oval vases with appliqued katsina faces.
Wilfred participated in his first SWAIA Santa Fe Indian Market in 1989 and won his first 1st Place Ribbon there in 1990. Since then he was earned a steady stream of ribbons at Santa Fe, at the Heard Museum Show in Phoenix, the New Mexico State Fair, Eight Northern Pueblos Arts and Crafts Show and the Inter-Tribal Indian Ceremonial in Gallup.
Sadly, Wilfred passed on in December 2017.

100 West San Francisco Street, Santa Fe, New Mexico 87501
(505) 986-1234 - www.andreafisherpottery.com - All Rights Reserved