Virginia Ebelacker
Santa Clara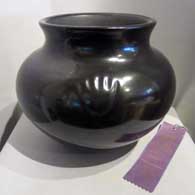 ---
Virginia Ebelacker was born to Alcario and Margaret Tafoya in 1925. She grew up among some of the finest potters Santa Clara Pueblo has ever known. Her father taught her the fundamentals of design while her aunt (Christina Naranjo) taught Virginia and her cousin, Mary Cain, to create their first pottery figures.
With that illustrious beginning, Virginia finished her schooling and went to work at Los Alamos National Laboratory as a highly skilled technician doing research work in metallurgy and plastics, eventually earning awards for her contributions to the scientific study of both. When she went home at night she relaxed by painting and creating pottery and jewelry.
Virginia met Richard Ebelacker (a Dutch scientist) at the Lab and, in his words, "Love flowed over those test tubes." They were married not long after and Richard, their first son, was born in 1946.
Virginia learned to make large pottery jars when she was young and she passed that skill on to her sons, James and Richard. Both became award-winning potters who made large black jars and red jars throughout their careers.
Virginia was known for her large carved redware and blackware jars, water jars, vases, bowls and storage jars, as well as her paintings, jewelry and leatherwork.
Over the years Virginia earned many ribbons and awards for her pottery: 1st, 2nd, 3rd Place, Honorable Mention and several Best of Divisions. She won the Maria-Popovi Da Award for Best in Traditional Pottery at the 1976 SWAIA Santa Fe Indian Market and the overall Award for Excellence at Indian Market in 1985.
Virginia passed on in 2001.

100 West San Francisco Street, Santa Fe, New Mexico 87501
(505) 986-1234 - www.andreafisherpottery.com - All Rights Reserved