Vickie Martinez
Santa Clara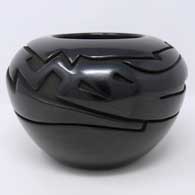 ---
Vickie Martinez was born to Barbara and Manuel Martinez of Santa Clara Pueblo in 1967. A member of the Bear Clan, her Tewa name is Koe-Sawe, meaning Buffalo Steps. Like her brothers, Chris Martinez, Manuel Martinez and Sammy Naranjo, she learned all the traditional steps to make pottery by watching and working with her mother and later with her grandmother, Flora Naranjo. Other potters in her family include aunts Frances Salazar and Glenda Naranjo.
Vickie's first pieces appeared in the marketplace in 1983, when she was barely 16. A few years later Vickie started dating and soon married Joey Chavarria. That led to her working with his mother, Stella Chavarria, and grandmother, Teresita Naranjo. They helped bring her work to a higher level.
Vickie makes mostly bowls, jars and wedding vases, sometimes in miniature. Her favorite designs to carve are the traditional avanyu (the Tewa water serpent of Santa Clara and San Ildefonso), clouds, feather roundels and parrot tail feathers. Now and then she adds a bit of sgraffito design. Then she fires her pieces to be either red or black.
As much as Vickie seems to carve most of her pieces, she's been quoted as saying, "I find sgraffito a very challenging and rewarding experience, which I enjoy thoroughly."

100 West San Francisco Street, Santa Fe, New Mexico 87501
(505) 986-1234 - www.andreafisherpottery.com - All Rights Reserved