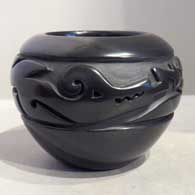 ---
Toni Roller was born to Margaret and Alcario Tafoya at Santa Clara Pueblo in 1935. Among her siblings were Virginia Ebelacker, Jennie Trammel, Lee Tafoya, LuAnn Tafoya, Mela Youngblood, Shirley Tafoya and Mary Esther Archuleta. Growing up in that circle she had no choice in the matter: she became an excellent traditional potter.
Toni used to speak of making her first pot at the age of six but back in those days, she said she was also more interested in making clay marbles and firing them in the same fires where her mother was firing pottery to sell (imagine the results if any of her marbles exploded).
Toni was focused on her art in her early years and sold her first commercial piece in 1968. Right after that came the years when she was too busy raising seven children. In the early 1990's she returned to making pottery full time and quickly became known for her fantastic polish and crisp carving.
Toni still makes pottery, still digs and processes her own clay, forms and polishes her pots, carves the designs and then fires them outdoors, just as she was taught by her mother so many years ago.

100 West San Francisco Street, Santa Fe, New Mexico 87501
(505) 986-1234 - www.andreafisherpottery.com - All Rights Reserved