Tavo Silveira
Mata Ortiz and
Casas Grandes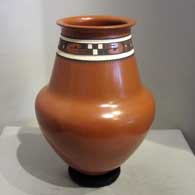 ---
Octavio Tavo Silveira is a young, second-generation potter from the El Porvenir neighborhood in Mata Ortiz. Early in his pottery career he began to make a name for himself by making large pieces of exceptional quality. He seems to have liked making large pots with lids, small handles and lightly carved, boldly painted designs. His principal color mix was rose-pink, coral and flat black on a white-body vessel. His designs were very energetic and exuded motion. Then his work evolved into smaller but no less elegant vases and jars, still lightly carved, still brilliantly painted, still exquisitely shaped.
Tavo learned the pottery-making basics from his father, Nicolas Silveira Ortiz. While his father has always worked in the El Porvenir style begun in the mid-1970's by Felix Ortiz, Tavo designs using elements of both the El Porvenir and Quezada styles.
Tavo has earned the Best in Show ribbon several times at the annual Concourso de Mata Ortiz competition. He now often collaborates with his wife, potter Myrna Hernandez.

100 West San Francisco Street, Santa Fe, New Mexico 87501
(505) 986-1234 - www.andreafisherpottery.com - All Rights Reserved