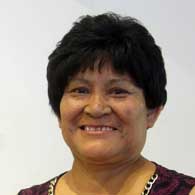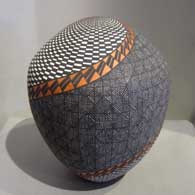 ---
A member of the Acorn and Eagle Clans, Sandra Victorino was born to Pearl and David Leno of Acoma Pueblo in February, 1958. She grew up in a family of well-known potters and especially remembers watching her grandmother, Lita Garcia, making pottery. She says it was her aunt, Dorothy Torivio, who put her hands deep in Clay Mother and taught her most of what she knows of the traditional Acoma way to make and decorate pottery. She's been producing pottery for more than 30 years. She's also taught her son Cletus, Jr. to make pottery.
Sandra has been participating in juried shows for a long time, taking home 1st, 2nd, 3rd Place and Honorable Mentions from SWAIA Santa Fe Indian Market, the Heard Museum Guild Indian Art Fair and the Eight Northern Pueblos Arts and Crafts Show. She's also participated in shows in Dallas, TX, Red Earth, OK and Fountain Hills, AZ.
Sandra tells us her favorite shapes to make are seed pots and tall neck seed pot vases. She most loves to paint them with fine line, swirl and checkerboard designs. She says her inspiration rises from deep in her heart and she loves to live surrounded by family, friends and beautiful pots.

100 West San Francisco Street, Santa Fe, New Mexico 87501
(505) 986-1234 - www.andreafisherpottery.com - All Rights Reserved