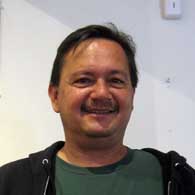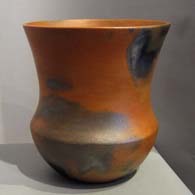 ---
Half Nambe Pueblo and half Non-Pueblo, Robert Vigil was born to parents Joe and Alice Vigil in 1965. He first learned the method of making pots with clay coils while in high school in Texas. Then he returned to the pueblo and began to learn from folks like Virginia Gutierrez, his cousin Lonnie Vigil and then from Juan Tafoya of San Ildefonso Pueblo.
Robert has been active as a Nambe potter since 1990 working with micaceous jars, bowls, vases, figures and polished redware. Robert doesn't create giant storage jars like his cousin Lonnie as he much prefers to work on a smaller, more intimate scale, and coloring his micaceous pots with fire clouds and other variations produced by the reduction method of firing. There is an elegant purity to his simplistic and understated forms, a deep reflection of his soft spoken manner and gentle spirit.
Robert has told us he prefers the simple shapes and forms and even his carving is gentle. He gets his inspiration from the clay: "I just sit down and start and the clay forms itself through my hands." He's lately been teaching others at his pueblo how to make pottery the traditional way as he doesn't want to see that tradition get lost over time.
He has participated in shows at the Wheelwright Museum of the American Indian, at the Eight Northern Pueblos Arts and Crafts Show and at the First Micaceous Pottery Market in 1995 in Santa Fe.
Pieces of Robert's pottery are on display at the Minneapolis Art Institute in Minneapolis, MN, and at the Crocker Art Museum in Sacramento, CA.

100 West San Francisco Street, Santa Fe, New Mexico 87501
(505) 986-1234 - www.andreafisherpottery.com - All Rights Reserved