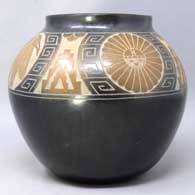 ---
Robert Allen Homer was born in 1956. His mother was Corn Moquino's sister, Marie and her lineage was Zia/Hopi. The Heard Museum records Robert's lineage also as Zia/Hopi.
We don't know much about Robert except he learned to make pottery from his uncle, Corn Moquino. He started to produce pottery in the mid 1980's and made an appearance at the Heard Museum Guild Indian Art Fair & Market in 1995. He earned an Honorable Mention ribbon that year for a turtle figure in black and red/sienna.
Robert was an exhibitor for several years at the Santa Fe Indian Market in the late 1990's and early 2000's. His style is very much like Corn's and he uses Santa Clara methods and clay.

100 West San Francisco Street, Santa Fe, New Mexico 87501
(505) 986-1234 - www.andreafisherpottery.com - All Rights Reserved