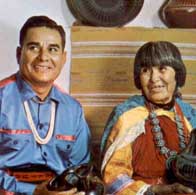 ---
Popovi Da (1922-1971) was the youngest son of Julian and Maria Martinez. He was named Antonio Jose Martinez at birth but changed that legally to Popovi Da (Red Fox) in 1948. He grew up learning to make pottery with his parents while he attended the San Ildefonso school, then Santa Fe Indian School. Among his fellow students at SFIS were Harrison Begay, Quincy Tahoma, Allan Houser, Pablita Velarde and Andy Tsihnahjinnie. It was in their company that he developed really fine technical skills as a painter, jeweler and watercolor artist creating works featuring wildlife, geometric designs and abstract symbolism.
He was drafted by the US Army in 1944 and was stationed at Los Alamos and the Manhattan Project. After he was discharged from the Army, he and his wife Anita returned to San Ildefonso and opened the Popovi Da Studio of Indian Arts. The Studio offered works for sale from many San Ildefonso potters and included a museum of some of the finest works by Popovi's mother and by other fine Native American artists. Popovi served as Director of the School of American Research, Chairman of the All-Indian Pueblo Council and served on the board of the New Mexico Arts Commission during those years. He also served six terms as Governor of San Ildefonso Pueblo.
He began painting pottery with Maria and his sister-in-law Santana around 1950. At first Santana would outline the designs and Popovi would fill them in. In 1956 Maria enrolled him in painting pots full time for her. He also took over the digging and preparing of clay as his father had done before him and became Maria's sole working partner. At that point Maria changed her signature from Marie back to Maria and they signed Maria and Popovi together, and later added a date. It was during those years that he began working to revive the making of polychrome pottery at San Ildefonso after 40 years of producing primarily black-on-black wares. He didn't make a pot alone until 1962. It was after that that he was sometimes too busy with his own pieces, politics and religious affairs of the pueblo to paint for Maria. That was when Maria's signature became Maria Poveka and the pieces were undecorated. However, Popovi's technical decorating skills were so high that his pieces alone and those he made with Maria are among the most valuable and most collectible of all Pueblo pottery.
Popovi was known as the Great Experimenter because he developed the techniques for producing the gunmetal and sienna finishes, both produced by manipulating the firing process. It was Popovi who also is believed to have developed the first turquoise inlay, a technique now employed by maybe 100 different potters in several different tribes. Sgraffito (ie: to scratch) is another technique pioneered at San Ildefonso by Popovi Da as it had never been used before on San Ildefonso pottery.
Popovi began working to revive the San Ildefonso polychrome style in 1956 and entered the first polychrome piece he was happy with in the Gallup Inter-Tribal Ceremonial in 1957. It earned the Best of Class ribbon. In 1967 the Institute of American Indian Art presented the Three Generations show in Santa Fe, NM, and at the US Department of the Interior in Washington, DC, featuring works by Maria, Popovi and Popovi's son Tony Da. Since his untimely death Popovi's work has been featured in several major exhibitions and shows and some of his pieces are in the permanent collections of several major museums around the world, including the Smithsonian Institution in Washington, DC and the the Museum Fur Volkerfunde in Berlin, Germany.

100 West San Francisco Street, Santa Fe, New Mexico 87501
(505) 986-1234 - www.andreafisherpottery.com - All Rights Reserved