Nathan Youngblood
Santa Clara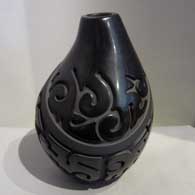 ---
Nathan Youngblood was born at Fort Carson, near Colorado Springs, Colorado, in 1954. His parents were Mela (1931-1991) and Walt Youngblood. Due to his father's military career, the family moved often. Eventually, Walt was sent to Vietnam and the rest of the family returned home to Santa Clara Pueblo (Walt joined them there when he came back from the war). It was at Santa Clara that Nathan learned to make pottery by watching his grandmother, Margaret Tafoya, and his mother. Margaret and Mela showed Nathan how to make and polish the pots while his grandfather, Alcario, showed him traditional Santa Clara designs and how to carve them.
He produced his first two pieces (a tiny bowl and a clay peace pipe) in 1970 and entered them in the Juvenile Division of the Gallup Inter-Tribal Ceremonials pottery competition that year. The tiny bowl won a second place ribbon, the peace pipe won a first place ribbon.
Nathan dedicated himself full time to making pottery in 1976 and apprenticed himself to his grandparents, Margaret and Alcario. It was an intense apprenticeship as they taught him every aspect of the traditional pottery-making path: making, carving and firing. In those early years of his career, Nathan was focused on making larger vessels, highly polished, deeply carved and physically heavy. He was also focused on creating the classic Santa Clara shapes and designs he'd been taught. By the mid-1980's he moved into creating more complex historic and prehistoric Santa Clara shapes and designs. Those more complex shapes forced a rethinking of the designs he used and he moved into carving less linear flows that incorporated more of the whole surface of a vessel. In the early 1990's he began incorporating some of the elements he loved in Asian ceramics into his pieces and that opened the door yet further to a mix of traditional and contemporary on the same piece. He also dreamed of making a Pueblo form of "Faberge egg" and experimented long and hard to create that. Incorporating three separate pieces and involving three firings, that created a tremendous amount of risk in the project. He successfully produced the first one in 1998 and said, "It is something I have dreamed of being able to make for 15 years, but until now was technically unable to create this piece. It may not speak to the traditionalist, but it had to be made."
His grandmother, Margaret, passed on in 2001 and in her honor he began to re-create many of her classic shapes, carving them with some of his own more contemporary designs. He also designed a line of jewelry and glass in those years, projects that allowed him to focus on how his imagery translated to other media.
Now he generally makes bowls, jars, vases, canteens and plates in red, black and/or tan. He both carves and paints, often on the same piece. His patterns have become increasingly complex, intricate and delicate over time. While many of his pieces have a contemporary look and feel, he always creates everything in the traditional way.
He has become known for his creative designs and the outstanding quality of his work. Often winning both 1st and 2nd Place ribbons, Nathan has won more than 140 awards for his pottery, including 40 awards at the SWAIA Santa Fe Indian Market. His work has been exhibited in galleries from Scottsdale, Arizona to New York City. His work has also been shown at the White House, the National Museum of American Art in Washington, DC, the Gilcrease Museum of Art in Tulsa, Oklahoma, the Museum of Natural History in Denver, Colorado and the Heard Museum in Phoenix, Arizona.
Over the years Nathan also served on the boards of the Southwestern Association of Indian Art, the Gallup Inter-Tribal Ceremonial and the Wheelwright Museum of the American Indian.
Nancy Youngblood is Nathan's sister.

100 West San Francisco Street, Santa Fe, New Mexico 87501
(505) 986-1234 - www.andreafisherpottery.com - All Rights Reserved