Nancy Youngblood
Santa Clara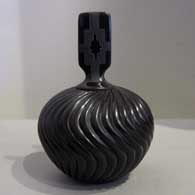 ---
Nancy Youngblood was born to Mela and Walt Youngblood at Fort Lewis, Washington, in 1955. Due to her father's military career, the Youngblood family moved every couple years until Walt was sent to Vietnam in 1968. That is when Mela returned to Santa Clara Pueblo with her 2 kids, Nancy and Nathan. When Walt came back from Vietnam, he rejoined the family at Santa Clara.
Shortly after their return to Santa Clara, Mela decided to get serious about making pottery and the three Youngblood's began spending significant time with the matriarch of the family, Margaret Tafoya. Mela was a very good potter but Nancy says she learned most from Margaret. Her grandfather, Alcario, also taught Nancy how to carve traditional Santa Clara designs into her pots.
Nancy learned well and over the years has amassed nearly 300 ribbons and awards for her work. She likens the making of pottery to the playing of a musical instrument, saying "the more you practice, the better you become." Nancy also credits her record on the fact she always uses traditional methods, right down to using cornmeal before getting the clay and sand and praying before each firing. She leaves as little to luck and chance as possible but knows there is some point in the process where "the spirit of the Clay Mother takes over and you learn to leave well enough alone. Something larger takes command and then you have to let go and trust the process. The fire decides its destiny."

100 West San Francisco Street, Santa Fe, New Mexico 87501
(505) 986-1234 - www.andreafisherpottery.com - All Rights Reserved