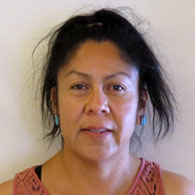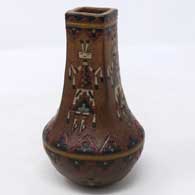 ---
Born in February 1973, Nancy Yazzie is a Navajo potter who's been producing pottery for the market since 2001. Well-known Navajo potters Lorraine Williams-Yazzie and Irene White are members of her family but Nancy says she learned the traditional art mostly on her own with some pointers from Calvin Yazzie, her brother-in-law.
These days Nancy mostly works together with her husband, Jackson Yazzie, producing Navajo-style pottery: brown clay from the Black Mesa area decorated with either Navajo country scenes or Navajo carpet designs. In Nancy's case, she likes to make tall necked vases (often with square necks) and decorate them with multi-colored Yei and geometric figures.
Nancy has participated in juried competitions at the Edge of the Cedars Museum in Blanding, UT (where she's gone home with at least one First Place ribbon), the Navajo Nation Fair in Window Rock (earning First and Second Place ribbons and Best of Show) and at the Cave Creek Museum in Cave Creek, AZ.
We asked Nancy where she finds the time (she and Jackson have 4 children still at home) and she sighed, saying, "Making pottery is my peace, my meditation." We asked where she finds her inspiration and her eyes twinkled: "From my husband and from our tribal traditions." Our final question was what would she like the world to know about her other than about her pottery. Her eyes twinkled even more as she replied, "There's nothing like being surrounded by wilderness. I just love it."

100 West San Francisco Street, Santa Fe, New Mexico 87501
(505) 986-1234 - www.andreafisherpottery.com - All Rights Reserved