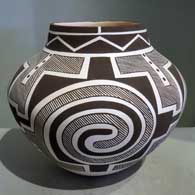 ---
Born in January, 1967, to Joan and Mike Sarracino of Laguna Pueblo, Myron has become one of the top award-winning potters from Laguna Pueblo. He began learning the traditional methods of making pottery from Gladys Paquin while he was still a teen-ager. Gladys taught him to make thin-walled impeccable shapes and to paint exceptional designs. Working together they produced some of the finest polychrome pottery in the modern Laguna tradition.
Then in the 1990's Myron branched off from Gladys and he turned to creating pieces that harken back to the more ancient Mimbres and Tularosa shapes and designs. He's extensively studied those prehistoric designs and has developed some unique variations of some of them. The result: traditional hand-made pottery with an ancient look and contemporary refinements. His work is also well-known for his swirl designs, inspired by the migration trails of his ancestors.
Myron's collection of awards range from Honorable Mention to Best of Show from competitions at the New Mexico State Fair, Gallup Inter-Tribal Ceremonials and the Eight Northern Pueblos Arts and Crafts Show.
His favorite designs seem to be clouds, rain, Tularosa spirals, bighorn sheep, swirls, checkerboard, feathers-in-a-row and frets. He says he gets his inspiration from his grandparents, Thelma and Sandy Sarracino, and friends Gladys Paquin and Verna Soloman.

100 West San Francisco Street, Santa Fe, New Mexico 87501
(505) 986-1234 - www.andreafisherpottery.com - All Rights Reserved