Mela Youngblood
Santa Clara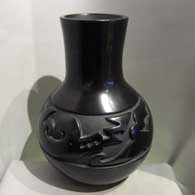 ---
Mela Tafoya was born to Margaret and Alcario Tafoya at Santa Clara Pueblo in 1931. She grew up surrounded by some of the finest potters of Santa Clara but she didn't start making pottery herself until the late 1960's. After high school Mela married Walton Youngblood, a career Army man, and they moved often until he was sent to Vietnam in 1968. That is when Mela returned to Santa Clara Pueblo to raise their children, Nancy and Nathan.
It was after returning to Santa Clara that Mela began creating her own pottery. She took her art seriously and quickly developed a very distinctive style. She felt every piece she made had to be perfect and she instilled that perspective in her kids. It also helped that Mela's mother and father had taken the kids under their wings and were also teaching them the finer points of the pottery-making art. Mela was also the first of Margaret's daughters to produce a traditional storage jar and have it survive the firing process.
In the mid-1970's Mela's work began winning First, Second and Third Place ribbons at the SWAIA Santa Fe Indian Market where she participated every year almost until she died in 1991. Mela was also a participant in numerous exhibitions in Albuquerque, New York and Santa Fe from 1974 to 1990.
Mela's favorite designs were black water jars with bear paw imprints but she also carved avanyus and geometric designs into a lot of pots and, working with Helen Shupla, introduced the melon-shaped pot into Pueblo pottery.

100 West San Francisco Street, Santa Fe, New Mexico 87501
(505) 986-1234 - www.andreafisherpottery.com - All Rights Reserved