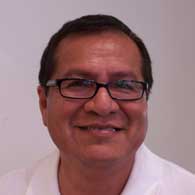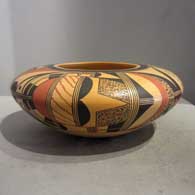 ---
Mark Tahbo was born to Ramon and Mary Tahbo in April, 1958. Mark is a member of the Hopi-Tewa Tobacco Clan and he's been a potter for more than 40 years. He learned the basics of the traditional Hopi-Tewa method of pottery making from his great-grandmother, Grace Chapella, and from Alma Tahbo, his grandmother. Other potters in his family include his sister, Dianna Tahbo, uncle Larson Goldtooth, and cousins Dorothy Ami, Ted Howato and Debbie Clashin.
Mark has participated in shows at the Gallup InterTribal Ceremonial, the SWAIA Santa Fe Indian Market, the Heard Museum Guild Indian Art Fair and the Hopi Show at the Museum of Northen Arizona, earning more awards than he says he can remember.
Mark tells us his favorite shapes to make are seed pots, jars, tiles, vases and piki bowls. His favorite designs come from Sikyátki and Nampeyo. He says he gets most of his inspiration from walking through the ruins of Sikyátki.
Mark says he's interested in passing his knowledge on to upcoming generations and leaving a legacy of himself and his people through his work. He is also very focused on passing on the ability to know and express who you are, in all facets of yourself, through your work.
Sadly, Mark passed on in December 2017.

100 West San Francisco Street, Santa Fe, New Mexico 87501
(505) 986-1234 - www.andreafisherpottery.com - All Rights Reserved