LuAnn Tafoya
Santa Clara/Pojoaque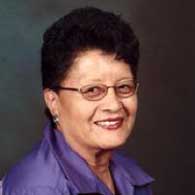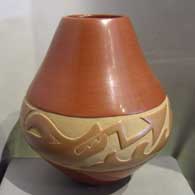 ---
LuAnn Tafoya was born into Santa Clara Pueblo in 1938. As the daughter of Margaret Tafoya and granddaughter of Serafina Tafoya, Lu Ann grew up learning to make pottery from the masters. She began producing pottery in her late teens and the list of awards she has earned since then is very long. She has participated in juried competitions at the SWAIA Santa Fe Indian Market, Heard Museum Guild Indian Fair & Market, Gallup Intertribal Ceremonial and the Eight Northern Pueblos Arts & Crafts Show, winning awards almost every year since 1980. In 2003 she earned the Blue Ribbons for Best of Pottery and Best of Show at Santa Fe Indian Market.
Like her famous mother and grandmother, LuAnn specializes in larger pieces: red, black and brown, highly polished and exquisitely carved. She is also a master of the outdoor firing process. Everything about the building, carving and firing of a large piece is different. The clay mix needs more temper, the building of the pot takes more time as it sometimes requires that a coil be allowed to dry some before the next coil is added. Polishing is a more drawn out process, as is carving. And then comes the most dangerous part of the process: the final firing. Lu Ann has mastered them all. She also learned to make pottery in the San Juan style and has earned awards for some of those pieces.
LuAnn has been a featured artist in books and exhibitions like The Legacy of Generations, Fourteen Families in Pueblo Pottery and Margaret Tafoya: A Tewa Potter's Heritage & Legacy. Some of her work is on display at the Heard Museum of American Indian Art & History in Phoenix, the National Museum of Women in the Arts in Washington, DC, Cincinnati Museum of Fine Art, and at the Poeh Museum in Pojoaque, New Mexico.
LuAnn has made almost every traditional Santa Clara and San Juan pottery form. Her favorite designs to decorate them with include bear paws, the avanyu, clouds, birds, kiva steps, winds and gourds.
Photo of LuAnn Tafoya courtesy of the artist, © LuAnn Tafoya, 2006.

100 West San Francisco Street, Santa Fe, New Mexico 87501
(505) 986-1234 - www.andreafisherpottery.com - All Rights Reserved