Linda Tafoya
Santa Clara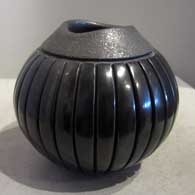 ---
The daughter of Betty and Lee Tafoya, Linda Tafoya was born into Santa Clara Pueblo in 1962. As a granddaughter of Margaret Tafoya she grew up surrounded by some of the finest traditional potters on Earth and learned the Santa Clara way early in life, mostly from her parents and her aunt, Mary Esther Archuleta.
Linda made her first pieces when she was twelve years old. Her father taught her how to form vessels and carve them while her mother taught her sanding and polishing. Her father also taught her his method for firing a perfect black pot and maintaining its high shine. Pieces they worked on together were signed "Lee and Linda." Then she married Dennis Oyenque of San Juan Pueblo and moved there.
At San Juan she continued to make pottery the Santa Clara way but she also learned San Juan methods and imagery and was one of the first Santa Clara potters to use micaceous clay on her pieces.
Linda lived at San Juan through the 1980's, signing her pottery: Linda Tafoya Oyenque, Santa Clara/San Juan. When she divorced she returned to Santa Clara. At Santa Clara she remarried and is now Linda Tafoya Sanchez. She still creates traditional Santa Clara red and black pottery with some San Juan imagery. Deep carving, light carving, sgraffito, micaceous slips, red and black ware, Linda does it all, and with an exceptional polish, too. She also taught her sons, Antonio and Jeremy, the traditional way to make pottery.
Over the years Linda participated in a number of exhibits, fairs and shows, earning awards regularly from the Heard Museum Guild Indian Fair and Market, Santa Fe Indian Market, Eight Northern Pueblos Arts and Crafts Show and the Gallup Intertribal Ceremonials. To cite a few of her early awards:
1984 - Outstanding Traditional Miniatures, Deer Dancer Annual Pottery Show, Denver, CO
1993 - 1st for a miniature melon jar, 1st for miniature miscellaneous, and 3rd for carved miscellaneous, all at Santa Fe Indian Market
1994 - 1st for black miniature jar, 2nd for miniature seed pot, and 3rd for a carved jar, all at Santa Fe Indian Market
1995 - Best of Division, Heard Museum Guild Indian Fair and Market, Scottsdale, AZ
Geraldine Harris Memorial Award from the Heard
1996 - Ribbons for traditional pottery over 6 inches and traditional miniature under 3 inches, both from Santa Fe Indian Market
1997 - Special Award in traditional pottery, Eight Northern Pueblos Arts and Crafts Show, San Juan Pueblo
Award from Santa Fe Indian Market in the Traditional Bowls and Vases category
1998 - Best of Division, piece was presented to the Prince of Spain
1st for undecorated black melon bowl and jar, 1st for carved or incised bowl, both from Santa Fe Indian Market
Best in Category at the Gallup Intertribal Ceremonials
1999 - 1st for a miniature, 1st for a traditional pot, both from the Eight Northern Pueblos Arts and Crafts Show.
In 2006 Linda was featured on the cover of New Mexico Magazine and was a featured artist in the 2011 Santa Fe Indian Market Magazine.
After all she has accomplished in her career, Linda says one accolade in particular still warms her heart. Early in her career Margaret Tafoya, her grandmother, asked to see some of her pots. She says Margaret looked over her selection and then proclaimed: "You do good pots!" It doesn't get any better than that.

100 West San Francisco Street, Santa Fe, New Mexico 87501
(505) 986-1234 - www.andreafisherpottery.com - All Rights Reserved