Joseph Lonewolf
Santa Clara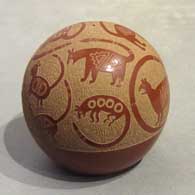 ---
Joseph Lonewolf was born into Santa Clara Pueblo in January of 1932. Both his parents, Camilio Sunflower Tafoya and Agapita Silva were well established potters. Joseph's mother taught him to work with clay at an early age, then his father taught him to sculpt the clay. From his earliest years he made miniature incised pots and gave them to his friends and family.
Joseph spent a number of years working as a mechanic and precision machinist in Colorado before returning to Santa Clara and dedicating himself to becoming a master potter in 1971. He was encouraged by his sister, Grace Medicine Flower, and worked some with his father at first before producing exquisite, finely incised miniature pots. His pottery was soon referred to as "pottery jewels," owing to their very delicate cameo-like appearance. A book was published in 1974 entitled "The Pottery Jewels of Joseph Lonewolf," one of the first books ever highlighting a single Native American artist.
Joseph has also been credited as the innovator of two-tone pottery (red and black) using a single-fire process. Previous methods of producing two-tone pottery required two firings. Joseph also pioneered the use of different colored slips on his pottery, often using red, yellow, orange, green, sienna, purple, black, brown and buff slips he discovered in the soils of Colorado. His wife Kathy once said that when Joseph was riding in the car (she always drove) that he could not only tell what color the passing dirt could produce but he could do it at 30 miles per hour. He always made his pots using the traditional Santa Clara techniques of hand-coiling and ground-firing.
Joseph's designs were all one of a kind, incorporating elements of nature, ancient Mimbres designs and contemporary Santa Clara styles. After firing, he inspected all his pots carefully before adding his name, his wolf's head hallmark, and a number and date to the bottom of each. Anything that didn't pass that inspection was immediately destroyed. Joseph always had dozens of pieces in various states of completion. After his passing his studio shelves were lined with these pots. Just recently his daughter Rosemary, a skilled potter in her own right, decided that she may take on the responsibility of finishing some of his pieces.
In 1976 Joseph, his father Camilio, his sister Grace and his daughter Rosemary were featured in a show at Tanner's Indian Arts Gallery in Scottsdale, AZ. Also in attendance for that show was Rosemary's husband, painter Paul Speckled Rock, and Joseph's other daughter Susan with her husband, painter Mike Romero. Back in Santa Fe, the Wheelwright Museum of the American Indian recognized Joseph's work with an exhibition in 1977. Other gallery shows in Vail, Colorado Springs and Las Vegas followed quickly. In 1981 Joseph's pottery was featured in major exhibits in three other major museums: the Native American Center for Living Arts in Niagara Falls, NY, the Eiteljorg Museum of American Indians and Western Art in Indianapolis, IN, and the Heard Museum in Phoenix, AZ. 1984 saw Joseph and his father Camilio doing a show at the Indian Jewelry Center in Sacramento, CA. In 1985 it was a show at the Sid Deusch Gallery in New York and in 1986 it was a show at McGee's Indian Den in Scottsdale again.
In 1994 Joseph participated in a show at the Four Winds Gallery in Pittsburgh, PA, along with Michael Naranjo, Roxanne Swentzel and Mike Bird. Later that year he enjoyed a solo gallery show at Andrea Fisher Fine Pottery in Santa Fe. In 1996 Joseph returned to the Four Winds Gallery in Pittsburgh with Virgil Ortiz, Roxanne Swentzell, Mike Bird and others. King Galleries of Scottsdale had a show featuring Joseph and his sister Grace Medicine Flower in 1998. That same year pieces made by Joseph and Grace were part of the "Harris Collection" show at the Blue Rain Gallery in Santa Fe, NM, along with pottery made by Tammy Garcia, his aunt Margaret Tafoya, his father Camilio Tafoya, Maria and Julian Martinez, Popovi Da, Tony Da, Teresita Naranjo and others.
Joseph taught his methods and techniques to his three children, Susan Snowflake Romero (Lonewolf), Rosemary Apple Blossom Lonewolf and Greg Lonewolf, before he passed in 2014.

100 West San Francisco Street, Santa Fe, New Mexico 87501
(505) 986-1234 - www.andreafisherpottery.com - All Rights Reserved