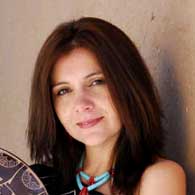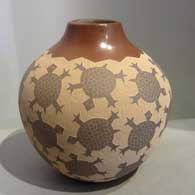 ---
Born into Santa Clara Pueblo in 1969, Jody Naranjo is a traditional potter creating contemporary styles and designs. She learned the ancient way of making pottery mostly from her mother, Dolly Naranjo-Neikrug, with influences from her aunt Jody Folwell and her cousin Roxanne Swentzell. She counts herself an eighth-generation Pueblo potter, still using the polishing stone used by her great-great-grandmother.
The traditional Pueblo manner of teaching is through play. Jody was playing with clay very early in life and says she was well practiced in just about every aspect of creating pottery before she was six. By the time she was 15 her pottery was being sold through the New Mexico History Museum. At 19 she attended the Institute of American Indian Arts on a fellowship from the Southwestern Association of Indian Arts and at the age of 23 she earned the First Place ribbon for Contemporary Sgraffito at the SWAIA Santa Fe Indian Market. Her career took off from there.
Jody has earned a long list of top awards at the nation's leading venues since, including scores of First Place, Best of Division and Best of Class awards at the Santa Fe Indian Market, the Eiteljorg Museum of American Indians and Western Art in Indianapolis and the Heard Museum Guild Indian Fair and Market in Phoenix.
Photo of Jody Naranjo courtesy of Brown University

100 West San Francisco Street, Santa Fe, New Mexico 87501
(505) 986-1234 - www.andreafisherpottery.com - All Rights Reserved