James Nampeyo (Garcia)
Hopi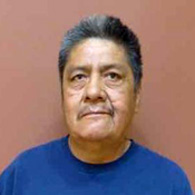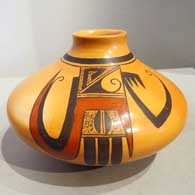 ---
Born in 1958, James Nampeyo is a great-grandson of Nampeyo of Hano. His grandmother was Fannie Polacca Nampeyo, his mother Leah Garcia Nampeyo. James grew up surrounded by some of the finest potters in the Hopi-Tewa world but he credits his grandmother, Fannie, with teaching him most of what he knows. He also learned from her to never deviate from the shapes, styles and designs from ancient Sikyatki as made famous by his great-grandmother.
James lives in Tucson now but still digs his own clay from the Hopi mesas and still prepares his own painting materials. Earlier in life he was married to Fawn Navasie (the daughter of Eunice Navasie and granddaughter of Paqua Naha) and he still collaborates with her sometimes. However, in his own creations he still sticks to the shapes, styles and designs of his great-grandmother, as his grandmother taught him to do so many years ago.
James favorite designs are thunderbirds, eagle tails, feathers and clowns.
We're sorry to say that James passed away in the first week of July, 2019.

100 West San Francisco Street, Santa Fe, New Mexico 87501
(505) 986-1234 - www.andreafisherpottery.com - All Rights Reserved