Jackie Shutiva-Montano
Acoma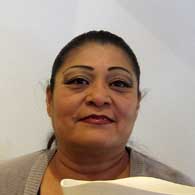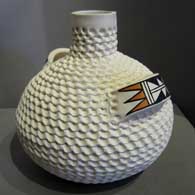 ---
Jackie Shutiva was born to parents Ernest and Stella Shutiva in 1961. Her grandmother was Jessie Garcia, one of three women (the others are Lucy Lewis and Marie Z. Chino) considered to be the most important potters from Acoma Pueblo in the last century.
Jackie learned the traditional art from her mother Stella, especially her methods for creating corrugated pots and wedding vases. She participates regularly in the SWAIA Indian Market in Santa Fe and her work is offered at several museum shops in the southwest. She says she gets her inspiration from her mom's vision and from her family's collection of old Acoma pots.
Jackie wants the world to know she's a third-generation creator of corrugated Acoma pottery and it means a lot to her when people really enjoy her work.

100 West San Francisco Street, Santa Fe, New Mexico 87501
(505) 986-1234 - www.andreafisherpottery.com - All Rights Reserved