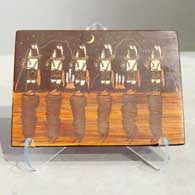 Ida Sahmie was born into a traditional Navajo family near Pine Springs, AZ in 1960. As in many traditional Navajo families, Ida's mother and grandmother began instructing her in how to weave at an early age. By her late teens Ida had decided she didn't have the patience it took to be a serious weaver.
In her mid 20's, Ida met and married Andrew "Louie" Sahmie, a Hopi. She went against tradition and moved to the Hopi reservation after the wedding. Her mother-in-law was Priscilla Namingha, a great-granddaughter of Nampeyo of Hano and a well-known potter in her own right. Ida was almost spell bound in watching Priscilla making pottery and Priscilla encouraged her to work with the clay herself. They worked together for several years before Ida realized she needed to come up with her own design library, a portfolio based on her Navajo heritage. A lot of the designs she uses are based on ancient Navajo sand-painting designs. As sacred images, they must be pictured exactly. Some even require that Ida have a Night Chant ceremony performed before she starts painting in order to make it safe to depict the figures.
Ida's pots are created of Navajo clay, using Hopi techniques and Navajo designs. Bruce McGee of the Indian Art Gallery at the historic Keams Canyon Trading Post was the pottery dealer who jump-started Ida's pottery career. Ida was driving Priscilla to the Trading Post to sell her pottery one day when Priscilla suggested she bring some of her own to sell. Bruce bought most of Ida's pieces and asked for more.
Ida likes to dig her own clay on the Navajo Reservation and uses a mix of natural white and yellow clays to achieve the blended peach-colored body seen on most of her pieces. She also mixes a bit of the white clay with a boiled-down soup of wild spinach to create the softer black slip she uses to paint many of her designs. She fires her pots outdoors, the traditional way, with ash and sand that is mounded over with sheep manure to produce an intense heat. Firing a few pieces can take all day and the weather has to be perfect, all day.
At the 2010 Navajo Nation Fair, Ida entered some of her pieces in the Arts and Crafts competition and was awarded the Best of Class and a 2nd Place Ribbon for her efforts.

100 West San Francisco Street, Santa Fe, New Mexico 87501
(505) 986-1234 - www.andreafisherpottery.com - All Rights Reserved