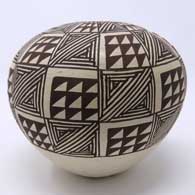 ---
One of the daughters of the famous Marie Z. Chino of Acoma, Grace Chino was born in 1929 and died in 1994. While she learned the methods of the traditional art from her mother, Grace didn't really start making pottery until she was in her early 20's.
Grace was highly respected for making large, well-formed and beautifully painted traditional Acoma pottery. She believed that each pot would tell her what design would be most appropraite for that pot and she'd go with that. She was not one for repeating trademark designs. Rather, she created many innovative compositions that were artistic and well-balanced. Many Acoma potters still say she was their favorite.
Grace was one of the potters featured in the 1974 "Seven Families in Pueblo Pottery" exhibition at the University of New Mexico's Maxwell Museum. She was also a featured potter in the "One Space: Three Visions" exhibit at the Albuquerque Museum in 1979. Grace was also a regular at the SWAIA Santa Fe Indian Market from 1980 through 1994, earning ribbons almost every year.
Grace made all kinds of shapes and forms, from miniatures to traditional seed pots, wedding vases, bowls and jars. She worked in both polychrome and black on white. Among her favorite designs were clouds, rain, parrots and the four-petal "pumpkin seed" pattern.

100 West San Francisco Street, Santa Fe, New Mexico 87501
(505) 986-1234 - www.andreafisherpottery.com - All Rights Reserved