Gloria
"Goldenrod"
Garcia
Santa Clara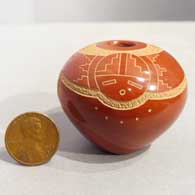 ---
Gloria "Goldenrod" Garcia was born into Santa Clara Pueblo in 1942, daughter of Petra Montoya Gutierrez of Pojoaque Pueblo and Juan Gutierrez of Santa Clara. Among Goldenrod's sisters are Thelma Talachy, Lois Gutierrez de la Cruz and Minnie Vigil.
In 1942 World War II was on and Pojoaque Pueblo had been reestablished less than 10 years before. Living conditions were pretty rugged and there was little infrastructure in place. When the Bureau of Indian Affairs in 1933 asked for information on where to find the Pojoaques, many of them came out of Santa Clara. Those families had left Pojoaque after the Cacique (the pueblo's religious leader) died and the last Governor left the area to find work around 1908, leaving what was left of the village to sink into the landscape.
At Santa Clara, Petra's children grew up surrounded by a vibrant artist community and they learned to make pottery from some of the greats. As they married, though, they had to make choices. Thelma chose to move back to Pojoaque Pueblo after marrying Joe Talachy while Goldenrod and the others stayed at Santa Clara.
Today, Goldenrod freehand etches (sgraffito style) her hand-coiled seed pots with designs that often feature buffalo, corn maidens, rain clouds, deer, bear and birds. She won First Place and Best of Division at Santa Fe Indian Market, three years after she began making pottery. The Smithsonian's permanent collection also features some of her work.

100 West San Francisco Street, Santa Fe, New Mexico 87501
(505) 986-1234 - www.andreafisherpottery.com - All Rights Reserved