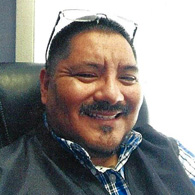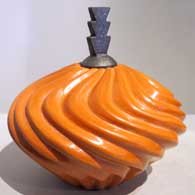 ---
Born in 1971 to Persingula Chinana Gonzales (Jemez) and George Gonzales (Navajo and Cherokee), Gabriel made his first pots when he was 5 years old. He was not raised on Jemez Pueblo but he did spend virtually every summer there until he finished school. In that time span he learned everything he could about making pottery the traditional way from his mother and his uncle (Donald Chinana).
By the time he was 15, Gabriel was developing his own pottery styles using natural clays and slips. Then he came across a spiral swirled melon jar made by Juanita Fragua. He was fascinated by it and over the next few years, he studied how to make his own versions of that style. He spent several years perfecting his method of creating melon jars using natural Jemez clay tempered with volcanic ash.
Gabriel is meticulous in his work, whether it's shaping, carving or painting, adding additional detail to his pieces until he's satisfied with the result. Then he fires his pieces the traditional way. That totality of effort has earned him many awards at shows including the Santa Fe Indian Market and the Heard Museum Guild show in Phoenix.

100 West San Francisco Street, Santa Fe, New Mexico 87501
(505) 986-1234 - www.andreafisherpottery.com - All Rights Reserved