Elias Peña
Mata Ortiz &
Casas Grandes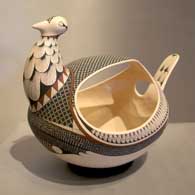 ---
Born in 1985, Lorenzo Elias Peña has been producing pottery since about 2002. He says he never had a teacher so he learned by a trial and error method that included reverse-engineering finished pots.
Elias began by painting standard Paquimé flowing geometric designs on standard pottery shapes but soon branched into painting combinations of animals, figures and geometrics on figures, effigies and deformed pots. He works alone, doing everything from digging his own clay to making his pots to decorating and firing them. He says painting the designs is his favorite part of the process.
Young as he is, Elias has earned several 1st, 2nd and 3rd Place ribbons at the Concurso de Mata Ortiz. He also won the Best of Show ribbon at the 2008 Concurso of Chihuahua State. Elias work has also been featured in an exhibit at the American Museum of Ceramic Art in Pomona, CA.

100 West San Francisco Street, Santa Fe, New Mexico 87501
(505) 986-1234 - www.andreafisherpottery.com - All Rights Reserved