Dora Tse Pe
San Ildefonso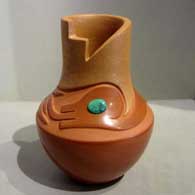 ---
Dora Gachupin was born at Zia Pueblo in 1939 to parents Candelaria Medina of Zia and Tony Gachupin of Jemez. She married Johnnie "Tse-Pe" Gonzales of San Idelfonso when she was about 20 and contrary to the ancient tradition, moved to his home from Zia (the Pueblo people are generally matrilineal and home is usually where the wife's family resides). She had grown up learning the Zia pottery designs and shapes but at San Ildefonso, Dora was exposed to the highly polished red and blackware that Rose Gonzales, her mother-in-law, made. "We didn't polish at Zia", Dora has said, "we used slips and plant and mineral paints." It was from Rose that she learned polishing and other San Ildefonso and San Juan styles and techniques. She said about Rose, "I love her work, and I love carving. And I love the water serpent. It depicts water - rain, thanksgiving and prayer for water. It's a San Ildefonso trademark. I like to make my serpent really simple and graceful. You'll notice that Santa Clara serpents look almost oriental, all the curves on the backs and all. Mine are very plain."
Other exceptional potters who have influenced Dora over the years include Popovi Da with his two-tone black and sienna ware and Tony Da with his use of stone inlay. Dora's work often includes turquoise or coral inlays on pots that also include combinations of black and sienna with micaceous slips. Her innovative style has sometimes been called "contemporary" and she often works with both polished clay and dull or micaceous clays in the same piece. However, she says she doesn't like that "contemporary" term and considers herself and her work to be traditional.
She has won many awards including Master Potter at Santa Fe Indian Market. Dora believes in quality not quantity and sees her art to be a gift from God. "It gives me pleasure to create beauty from the earth," she says.

100 West San Francisco Street, Santa Fe, New Mexico 87501
(505) 986-1234 - www.andreafisherpottery.com - All Rights Reserved