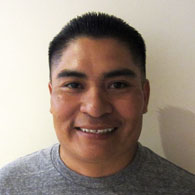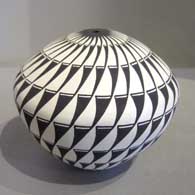 ---
Cletus Victorino Jr. was born to Sandra Victorino and Cletus Victorino Sr. of Acoma Pueblo around the time of the Winter Solstice in 1978. Surrounded by many famous Acoma Pueblo potters as he grew up, Cletus was exposed to the Clay Mother early in his life. However, he didn't become interested in making pottery himself until he was in his late 20's. Then his mother and his late aunt, Dorothy Torivio, took him under their collective wing and taught him the fundamentals of the traditional Acoma way to produce pottery. They also taught him to paint his designs with a laser-like precision.
Cletus hasn't participated in any juried competitions or shows yet, doesn't know that he ever will. But his mother and his aunt taught him well, especially when it comes to the various seed pots he likes to make and the "pumpkin seed" design he likes to paint on them.
When we asked Cletus where he gets his inspiration he instantly answered, "My mom, my aunt and my grandmom." Then we asked him what he does when he's not making pottery. His response: "Hang around with my family, go fishing or participate in my tribe's religious activities."

100 West San Francisco Street, Santa Fe, New Mexico 87501
(505) 986-1234 - www.andreafisherpottery.com - All Rights Reserved