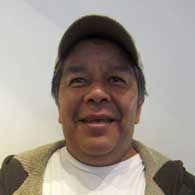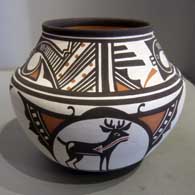 ---
Carlos Laate was born into Zuni Pueblo in 1962, son of Etta Lynn and Lydatie Laate. He was inspired to make pottery by his aunt, Jennie Laate. Jennie taught pottery making at Zuni High School. Following in the footsteps of her mentor, Daisy Hooee Nampeyo, Jennie is credited as being a major part of the rebirth of the Zuni pottery tradition.
Carlos has been making pottery since 1987. He is 100% Zuni and prefers to use many of the old Zuni shapes (water jars, pitchers, owl effigies) and designs in his work. As his father worked for many years in the forests, and Carlos joined him often, you can see those influences in his use of turkeys, deer, birds and other wildlife in his designs. As Carlos says, there's a lot of forest out there with lots of beautiful places to hike and hunt.
Carlos has participated in many shows and won awards for everything from Best of Show (Twin Arrows Casino Resort, AZ) to Honorable Mention and Acquisition Awards to 1st, 2nd and 3rd Place ribbons in shows at the Heard Museum Guild Indian Fair & Market (Phoenix, AZ), Cherolette Hall (Prescott, AZ), Northern Arizona Museum (Flagstaff), and the Litchfield Park Native American Arts Festival (Litchfield Park, AZ). His work is also on display at the Utah Natural History Museum, University of Kansas-Lawrence, Tucson Museum of Art and the Heard Museum.

100 West San Francisco Street, Santa Fe, New Mexico 87501
(505) 986-1234 - www.andreafisherpottery.com - All Rights Reserved