Carla Martinez
Mata Ortiz and
Casas Grandes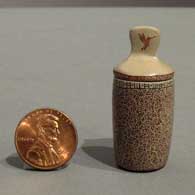 ---
Married to Diego Valles, Carla Martinez works with a wide range of clays to make everything from miniature lidded pots to large and graceful traditional pieces. However, it's her miniatures that are most popular and have made her famous. In 2013 her miniatures won 1st and 2nd Place ribbons at the Arizona-Sonora Desert Museum's Women Potters of Mata Ortiz show. Since then she won 1st Place ribbons at the Mata Ortiz Concurso for her miniatures in 2016, 2017 and 2018.
Carla was teaching engineering courses in Nuevo Casas Grandes before moving to Mata Ortiz and learning to make pots. She likes to fill out the major part of the design elements on a pot, then paint on a spider web pattern that fills the gaps in the main design elements (this is part of what makes the Porvenir style different from the Quezada style in Mata Ortiz pots).
She works with Diego often these days and she says that has stretched her pottery and design horizons in new directions. The two travel the world together as Diego is internationally known and often asked to give pottery-making demonstrations and lead workshops.

100 West San Francisco Street, Santa Fe, New Mexico 87501
(505) 986-1234 - www.andreafisherpottery.com - All Rights Reserved