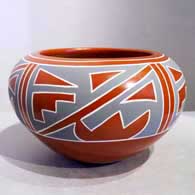 ---
Belen Tapia lived from 1914 to 1999. She was the daughter of Thomas Tafoya and Maria Atencio but is better known as a niece of Sara Fina Tafoya and cousin of Margaret Tafoya and Christina Naranjo.
Belen was one of the innovators of polychrome redware. Her second husband, Ernest Tapia, traveled to hidden corners of the Pajarito Plateau and gathered the blue-grey, umber tan, salmon orange and white clays that he ground very fine to make the paints they both used to decorate her pots. She made mostly bowls, jars, wedding vases, plates and engagement baskets. Her favorite designs were kiva steps, feathers, avanyus and terraced clouds.
Belen participated in the SWAIA Santa Fe Indian Market from 1979 to 1995, earning a number of ribbons including a Best of Division and a 1st Place in 1980.

100 West San Francisco Street, Santa Fe, New Mexico 87501
(505) 986-1234 - www.andreafisherpottery.com - All Rights Reserved