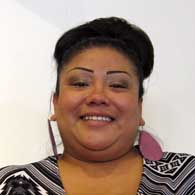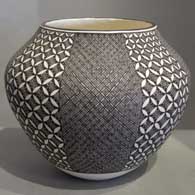 ---
Amanda Lucario was born to Rebecca and Dwight Lucario at Acoma Pueblo in 1984. Little did she know she was entering one of the most illustrious families of potters at Acoma. Amanda says she learned most about the traditional way of making pottery from her mother but she also learned a lot from her aunts: Marilyn Ray, Carolyn Concho, Judy Lewis and Diane Lewis.
As much as Amanda grew up surrounded by potters (and other artists), she's only been making pots since about 2010. She's participated in shows at the Heard Museum in Phoenix and the SWAIA Santa Fe Indian Market where she went home in 2012 with a 1st Place Ribbon for a miniature plate. Her favorite shape to make is the vase while her favorite designs consist of square patterns and snowflakes.
Amanda says she gets her inspiration from her mother and from her aunt Marilyn. She'd like the world to know she's still working on perfecting her techniques and she's always grateful for the motivation she receives from her mom and her aunt.
With her mother Rebecca and her older brother Daniel, Amanda participated in A Family Affair, a very successful 2014 Santa Fe Indian Market show at Andrea Fisher Fine Pottery.

100 West San Francisco Street, Santa Fe, New Mexico 87501
(505) 986-1234 - www.andreafisherpottery.com - All Rights Reserved