See a larger version
Unknown, Tesuque, Polychrome basket with handle and geometric design
Artist: Unknown
Pueblo:
Tesuque
Dimensions:
3 in H by 3 in Dia
Item Number:
lfted9325
Price:
$ 175
Description:
Polychrome basket with handle and geometric design
Condition:
Goodℑs=4
Tesuque Pueblo
A Tesuque Rain God
Tesuque Pueblo is located about 10 miles north of today's city of Santa Fe, New Mexico. Archaeologists have dated a few sites in the Tesuque Valley back to about 850 AD. By 1200 AD there were many small villages in the area but when the Spanish arrived in 1540, they found only six villages left. The main Tesuque Pueblo (at that time) was located about 3 miles east of today's pueblo.
During the Pueblo Revolt of 1680 it was a pair of Tesuque runners who misled the Spanish as to when the tribes planned to revolt. The Spanish governor killed the runners for their efforts, then saw many of his Spanish subjects killed when it turned out the "date" was wrong and the tribes revolted early. At Tesuque the warriors killed the local priest and another government official immediately, then marched to the Palace of the Governors in Santa Fe to join with the warriors of other pueblos in that confrontation with the Spanish. A few days later, the Spanish were allowed to leave the Palace of the Governors peacefully and begin the long march south on the Camino Real back to Mexico.
When Don Diego de Vargas returned at the head of Spanish troops (the Conquistadors) in 1692 and began to reconquer northern Nuevo Mexico, one of the first things they did was burn and tear down the main Tesuque village. Shortly after that the tribe officially submitted to Spanish rule, moved to the present pueblo site and began rebuilding in 1694.
Between changes of government, European-introduced diseases, European encroachment on pueblo land and general disregard for the people of the pueblos, the next 200 years were not kind to the Tesuque people and by 1910 the pueblo's population was down to 77.
Today there are about 800 members of the Tesuque tribe living on a reservation of more than 17,000 acres. The tribe operates Camel Rock Casino, the Tesuque Pueblo Flea Market (on Opera Hill) and the Camel Rock Suites (on South St. Francis Drive in Santa Fe).
Before the 1800's, Tesuque pottery mostly resembled the pottery produced at San Ildefonso at that time. Around 1830 that began to change as Tesuque potters experimented with newly found clays and slips that shortly made Tesuque Polychrome a style of its own. That style was quite popular until an Anglo trader named Jake Gold appeared. Gold convinced most of the Tesuque potters to make small figurines he called "Rain Gods." He also convinced them to paint those figurines with commercial paint. Gold did an outstanding marketing job and soon Tesuque potters were turning out Rain Gods by the thousands. They were distributed nation wide and many manufacturers bought them by the barrel to use as promotional items. That mass production ended up virtually destroying pottery making at Tesuque. In the 1920's the demand for Rain Gods diminished and the potters turned to making other low quality goods painted with commercial "Day-Glo" poster paint.
In the 1930's and 1940's only a handful of Tesuque potters were producing but Catherine Vigil persevered through those times making traditional Tesuque polychrome pottery. In the 1960's a few young potters took up where Catherine left off and a small revival of traditional pottery making began at Tesuque. However, the tribe's commercial ventures these days have pretty much replaced any pottery making.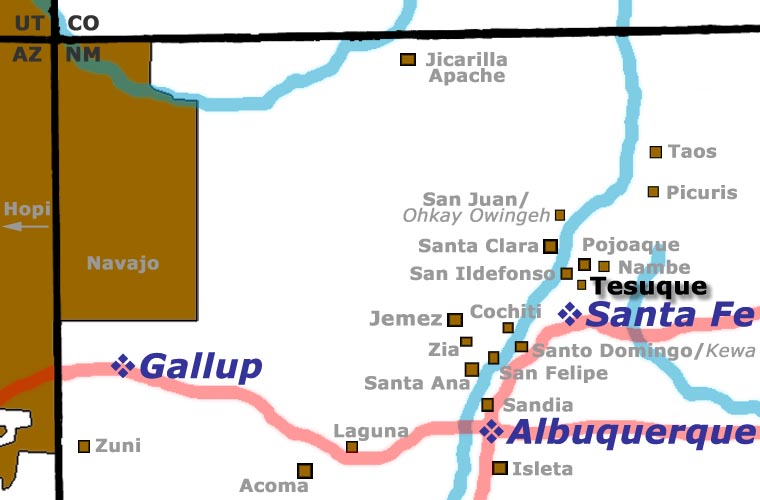 For more info:
Tesuque Pueblo
at Wikipedia
Pueblo of Tesuque
at newmexico.org
Pueblos of the Rio Grande
, Daniel Gibson, ISBN-13:978-1-887896-26-9, Rio Nuevo Publishers, 2001
Print this Pueblo History(.pdf)
Pottery Care & Consideration
The most obvious tip: Yes, the pots will break if you drop them!
Do not expose pottery to water (Inside or outside). Do not wipe with a damp cloth.
Dust pottery only with a soft, smooth cloth (no terry cloth or textured fabric). A very soft paintbrush (sable or camel) can be used.
Always use two hands to carry your pot: one on top and one on the bottom, or one hand on each side. Be careful with handles, they can be fragile. Do not grip or lift pots by the rim. Take care when wearing jewelry, rings can scratch the finish.
Place a piece of felt or cloth between the pot and the shelf to protect the signature.
Avoid exposing pottery to extreme temperature changes.
For those who live in "earthquake country" (also good for mischievous pets):
Weigh pots down with a small zip lock bag containing sand, glass marbles, rice, etc. Do not fill the pot more than one third full as you want them bottom heavy. Remember to remove the weight before moving.
Secure your shelves; make sure they are well attached to the walls. Shelf brackets should be of sufficient length and strength to support the weight of your pottery.
Prevent pots from sliding. Consider attaching a small wooden molding to the front of shelves. Line shelves with non-slip material (a thin sheet of rubber foam, Styrofoam sheeting, etc.)
If you need assistance with special problems, major cleaning (your grandchild spills ice cream on your pot), restoration or repair (the cat breaks a pot), or replacement (irreparable damage), please feel free to call us.
We hope these ideas help you maintain the beauty and value of your pottery for years of enjoyment.
Print this page (.pdf)

100 West San Francisco Street, Santa Fe, New Mexico 87501 (505) 986-1234
www.andreafisherpottery.com

Copyright © 1998-2019 by
Andrea Fisher Fine Pottery
All Rights Reserved